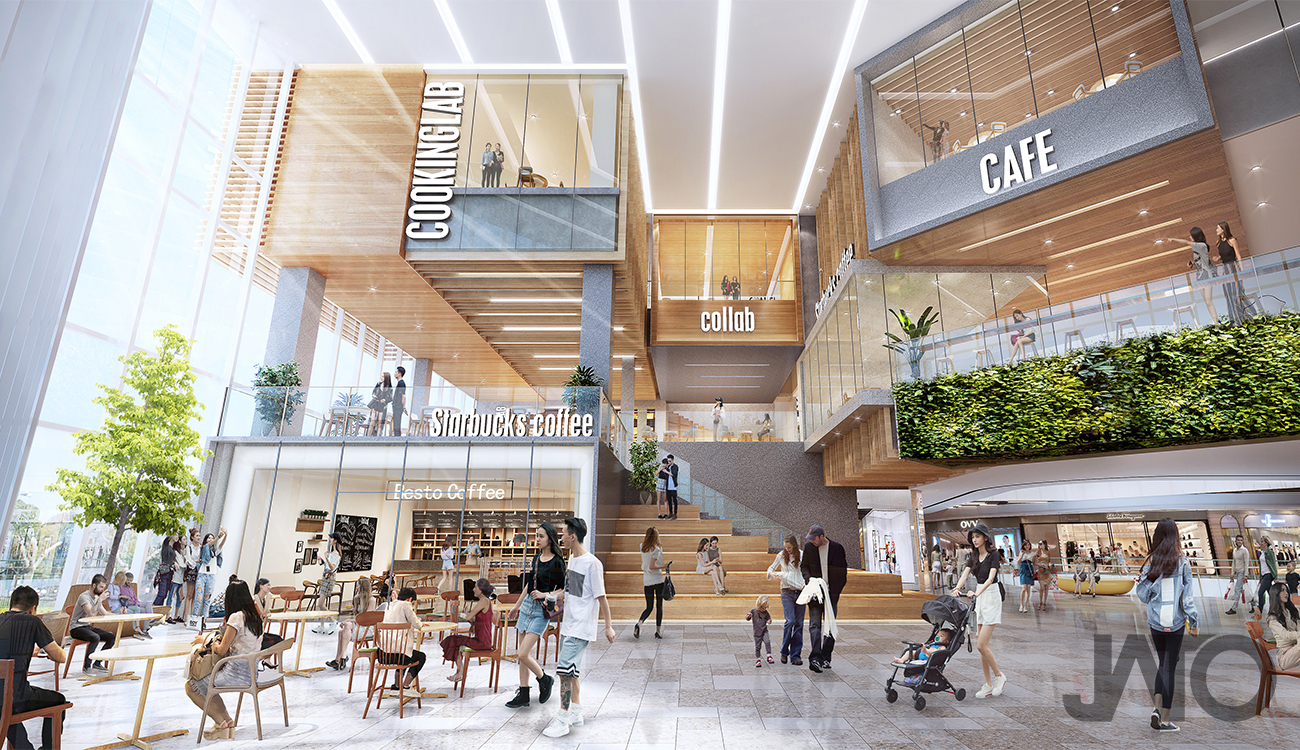 China Overseas Beijing Yinghai Unifun
| | |
| --- | --- |
| Location | Beijing   |
| Size | 95,000 sqm |
| Status | Opened in 2022 |
| Design Date | 2019 |
| Client | China Overseas |
| Tags | Retail |
Yinghai Unifun is the first Unifun commercial project of China Overseas Property in a first-tier city, with a floor area of about 95000 m2. As a fashionable home shopping center featuring "New City, New Youth and New Life", it is built as a shared city living-room in southern Beijing. The project adopts complementary commercial space and city public space as the design concept and integrates humanized needs into the community concept. Also, the project innovatively builds the first Open House high-rise open platform and panoramic-open green space in Beijing, shaping a unique ecological scene and allowing citizens to breathe freely in a compact city space.

This design also highlights the integration of art into the building, which makes the space unique and ingenious. The L-shaped building structure comprises four atriums and a "City Living-room". Accordingly, Yinghai Unifang builds six scenic landscape spaces focusing on the content associated with the community commercial center to maximize the mall's external attraction by introducing large landmark-level IPs, large-outdoor naked-eye 3D screens, sunken plazas, interactive installations, etc. A 3500㎡ rooftop garden will be built into a "Mars Venue" and be equipped with rich and diversified contents like immersive Mars Capsule, Mars Astronaut IP exhibition, and trendy black technology devices, presenting the young and dynamic side of the project and enhancing the inspirational display of community business.

In addition to creating the city's open spaces, the design team also actively draws inspiration from geographical positions. The adjacent Nanhaizi Park is the Royal Colosseum of five dynasties in Chinese history and is also the site of Nanyuan—the royal garden of the Ming and Qing dynasties. Therefore, the design team takes inspiration from the geological pattern and compares the interior design to an explorative journey, enriching the corridor and sub-atrium with Colosseum elements and garden themes to add a sense of exploration to the modern commercial space with the rich history and culture.
They used the sense of "seeking novelty" brought by the royal hunting grounds and gardens as a cultural guide for this "Adventure Tour". The tour starts with the transformation of the atrium into a city living-room. The "City Living-room" is a four-level social place spanning from the third floor to the mall's top floor. Also, using decorations and ceilings in spaces such as theaters, windows, exhibitions and performance centers to create a Colosseum scene, which will also serve to support future mall events.
Throughout the mall's interior, each floor is designed with a circular passage-way. Compared to the traditional straightforward shopping mall, it not only stimulates consumers' exploration pleasure but also prolongs consumers' residence time in the actual consumption scene, maximizing the business value with "design".